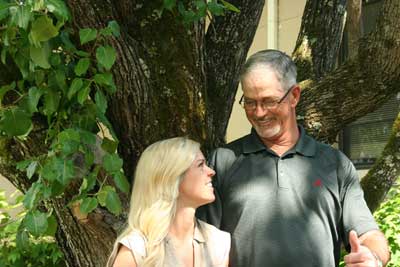 Imagine overhearing a surgeon saying, 'If he wasn't here now, he wouldn't have made it two weeks.'
That's what Glenn heard as he was about to undergo brain surgery for two aneurysms detected by an MRI just eight days earlier. They predicted he would lose sight in his left eye because of the aneurysm that was pushing on his optic nerve.
Hours later, he awoke from surgery to the sound of his son's athletic pants swishing back-and-forth as he came down the hallway. Dosson approached his bed and Glenn opened one eye — the eye they said he might lose — and he saw his son. "It was the most peaceful I've ever been in my life. I knew everything was OK the moment I woke up," he said.
His terrifying and painful journey had its beginnings a decade earlier. He suffered from what he thought were migraine headaches for 10 years — occasionally at first, then progressing to the point of an almost daily occurrence in the past year.
His eye doctor detected discoloring in the back of his eye, an indicator of strokes, and he recommended an MRI.
His physician referred him to Coosa Valley MRI and Glenn immediately was at ease because he knew of their professional reputation.  An MRI can be an intimidating procedure, but Glenn said the staff knew exactly how to create an atmosphere of calm rather than panic. "They asked me what kind of music I liked. I said rock." He put his earphones on, and "the first song was ZZ Top, my favorite, and I thought, 'They know me.' They had me feeling good. I didn't know I was sick."
But he was sick. After studying the images of his brain the radiologist alerted the MRI techs immediately and had Glenn return for additional images.  Luckily Glenn had just left the facility and had not gotten very far down the road.
The staff, as always with patient cases, kept it low key, not wanting to alarm him but wanting to get comprehensive results to the doctor as soon as possible.
Glenn's physician shared with him the MRI findings and told him he needed to get to a specialist at UAB in Birmingham quickly. Glenn at first denied the need for speed and delayed going to see the specialist. But his wife, Jill, knew better, daughter Brittanie said. She felt comfortable enough to call the staff at Coosa Valley MRI and ask them to contact her father to help him understand how important and time sensitive his situation was, and she didn't want her father to know she had called.
"I didn't know it was that bad," Glenn recalled. He listened to the MRI staff he trusted and headed to Birmingham to see the specialist.  From there he was admitted to the University of Alabama Hospital where he underwent the brain surgery that saved his life.
Today, Glenn smiles as he talks about the man he was versus the man he is now. "I am not the same person. I concentrate on what's important, enjoying what is important. I was working so hard, I was letting life blow by me."
Not now. Brittanie will be a senior in college in the fall, pursuing a career in medicine. Dosson will be a freshman at the same university. "I want to see them graduate," he said. He wants to be around as they go through life, focusing on the importance of family and taking the time to enjoy every minute of it. "I want to be there for my kids."
What got him to this epiphany? "The Lord," he said without hesitation. A man of deep faith, he looks at Coosa Valley MRI and the staff as "the tool the Lord used to save me. They are good people here — second to none," he said. "You don't need to worry or go across the state. You've got it all right here."
Glenn wants to share his story with anyone who will listen.  If he can help save a life by encouraging people to go to the doctor and have their MRI that is precisely what he wants to do. "I am here for a reason. I should be dead. We are very blessed to have something like this in this area," he added. "I'm here today because of it. The good Lord wasn't ready for me."